This workshop is closed when the clock hits zero
Curate your
dream wardrobe
Using the same system I've used to transform my private client's closet and their relationship to style.
Every once in a while, we do a workshop that clients can't get out of their heads: it
absolutely begs for an encore, and we wouldn't hear the end of it if we didn't!
For us, this saucy little number is our
Secrets of "Creating Your Essential Wardrobe" Workshop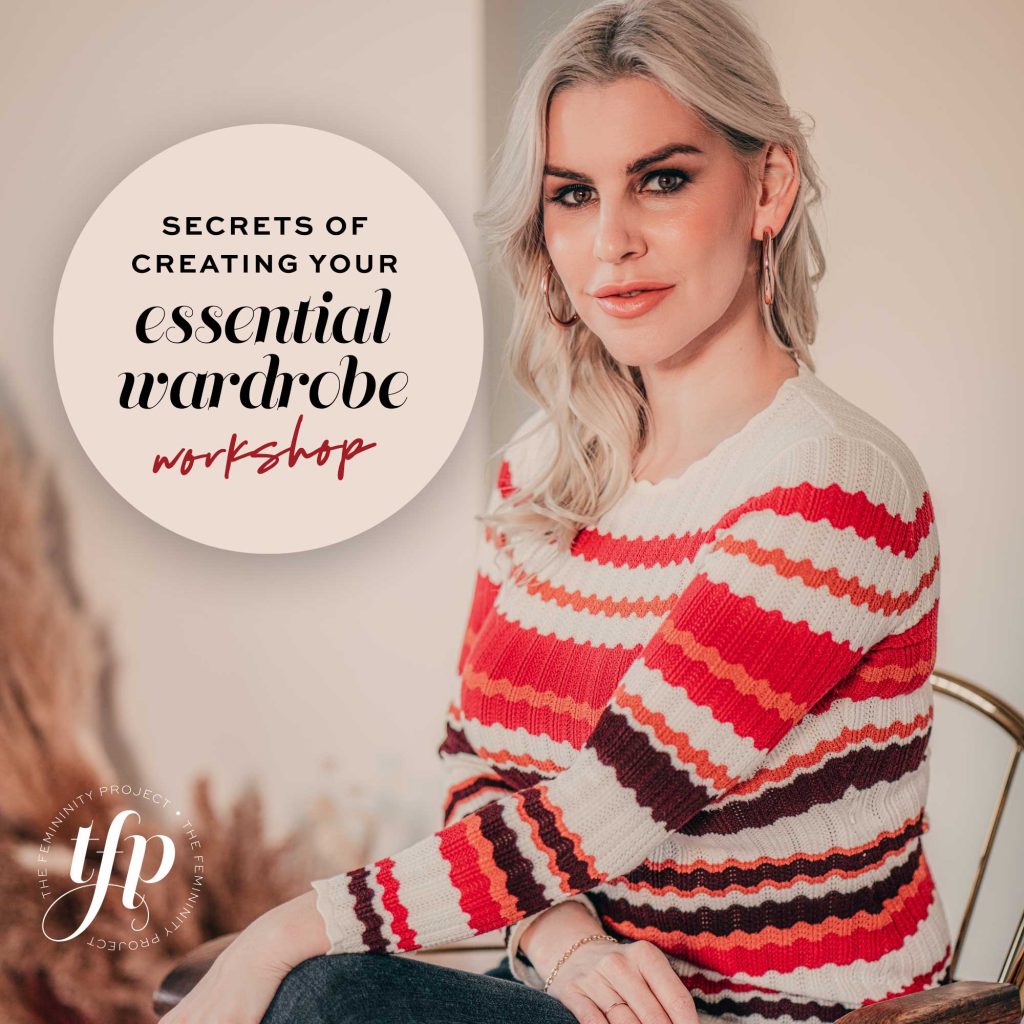 There's a fine line between *that* dress that announces its presence a bit too loudly (you know the type) … and the one that gets compliments whispered your way all night. This workshop teaches you how to choose the latter. Trust us, it's been put to the test.
Don't waste another second choosing ho-hum outfits that leave you uninspired and uncomfortable – welcome to style adulthood, you're gonna love your new closet.
A quintessential look into how to build a timeless and

feminine wardrobe

.
Learn how to dress to accentuate your body type and

style personality

.
Borrow secrets from a French woman's closet, and learn to embody that je ne sais quoi factor.
Become versed in the Style Commandments.
Learn how to inspect a garment for quality construction so you never throw money down the toilet.
Live Zoom workshop happening Saturday, May 6 from 10am-11:30am PST, with Q&A.
A recording of the workshop.
My Shopping Hit List PDF.
Plus, snag my Styling Secret Guide where I share tips and ticks, so you can DIY your way to effortless feminine looks.
"fun, engaging, and informative workshop"
"Sarah created a really fun, engaging, and informative workshop. I really enjoyed learning about her personal tips, tricks, and go-to's. Her years of professional dance experience added a unique spin."
"Information that I could implement immediately"
"This workshop had excellent practical information that I could implement immediately. It's helped me clarify my wardrobe priorities and decluttering process. Also, it's helped me understand that it's possible with planning and knowledge to create a timeless wardrobe".
"It opened my eyes to styles that I hadn't considered before"
"I truly enjoyed and learned so much from doing a style session with Sarah. She is thoughtful and thorough in everything she does which makes for a fun, personalized experience. I learned so much about what could work for me in terms of styles, and it opened my eyes to styles that I hadn't considered before as well as how to balance different pieces based on what works for my body type. Sarah is passionate and talented – I would highly recommend working with her to both style newbies and experienced fashionistas as there is something to learn for everyone!"
I'd like to talk to a real human for some help. How do I do that?
Great! Simply email info@thefemininityprojectinc.com. Someone from the team will be in touch within 2 business days.
Exactly what happens after I purchase this?
Check your inbox – the internet fairies will make sure the receipt and confirmation email hits your inbox. You will receive the Zoom link to join the call. Your Wardrobe Hit List and Style Guide will be sent out after the workshop.
What makes you qualified to help me with my style?
Besides being an avid lover of fashion since I was rocking pigtails and teaching other women my strategies for the past 2 decades… My career as a professional competitor taught me how to accentuate the female form and showcase myself in a way where I would stand out in a crowd.
I was then sponsored by two different dress companies and traveled around North America helping other women choose outfits that highlighted their best features and made them feel absolutely beautiful.
I was accepted into a prestigious fashion school but choose to forgo it as I wanted to pursue my entrepreneurial journey and build The Femininity Project. With all my private clients I help them build a wardrobe they love, and one that loves them right back!