Do you feel uncomfortable and in pain when you wear heels??
71% of women who wear heels say they HURT their feet.
42% of women say they will wear a pair of heels EVEN if it's painful, just as long as they're cute.
Besides the apparent fact that most women suffer to wear the shoes they really love (the ol' beauty requires sacrifice philosophy), the 71% statistic ALSO reveals that there IS this 29% of women group, who wear heels without pain!
Unicorns? Perhaps…
I am a member of the elusive 29% Club, and before you write me off because I'm a Pro, I have coached hundreds of other women and welcomed them in!
Here I will show you how YOU can get rid of squished toes, aching feet, wobbly ankles and tired legs to fully enjoy and rock the shoes you love!
Pain is the Worst!
You can't fully enjoy that party, night out, work event, date, or graduation, if you're constantly distracted by your throbbing feet; or simply worried about how you look when you're walking in heels.
Women are Resilient –
We try to power through squished toes, aching feet, tension in the legs, and a squatty clunky walk – it doesn't FEEL good, it doesn't LOOK good, but that's normal when it comes to wearing heels, right?
But what if it wasn't??
I am World Professional Semi Finalist in Latin style dancing and have coached many hundreds of women on how to walk in heels for the last 20 years. I can tell you with absolute certainty that walking in heels confidently and without pain is a LEARNABLE skill, available for any woman. Any height, any size, any age, period.
You probably already knew that intuitively, to some extent. I mean, how does this 29% get to walk without pain??
You probably even googled it! Heard those same 5 tips on how to walk (in a straight line, heel to toe, hips forward, etc.), and tried some of the suggestions on how to prep your heels (everything from insoles to taping your toes). But it just didn't work. It felt more like a band aid to an open wound then a lasting solution.
Being one of the 29%, and getting so many women into that group, I can tell you from experience that the #1 REASON you are in pain is NOT the design of your shoe, it's NOT your heel height, and it has NOTHING to do with the quality of your insoles.
It is the way you walk in them!
Now please don't get me wrong, I'm NOT saying that there is no such thing as a poorly designed shoe, or a shoe that hurts your foot; being a Professional Dancer I've had my fair share of both of those.
I'm also NOT saying that there is no such thing as a heel that is too high for your foot size, having a healthy angle for your foot elevation is very important.
What I AM saying is that these things are not the main source of your pain.
Just like when you fall asleep with your neck in an awkward or crocked position, you're going to wake up with a sore neck, no matter how comfortable your pillow is!
Because heels change your body and foot alignment so much, it's vital to know exactly HOW you should walk, so you DON'T HURT yourself, and can get out of that 71% zone! If there are 29% of women out there who aren't in pain, that means there's hope for you!
Now in order to walk in heels confidently, comfortably and with style without pushing through pain, discomfort, here's what you need:
Whether you want to wear heels to a party, a big event, to work, to school, on a date, or just for a night out with your girlfriends, you need these same 5 elements: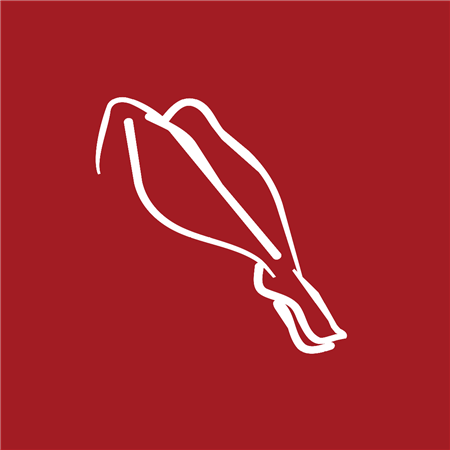 Legs & feet
Legs & Feet:
This is your bread and butter. Here you set up a must have, solid foundation.
Hips:
A woman's secret weapon. Learning how to move your hips not only improves balance, coordination and comfort, it also adds femininity, grace, and sexiness to your walk!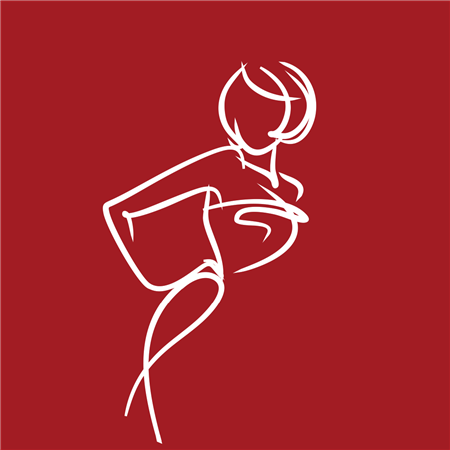 Hips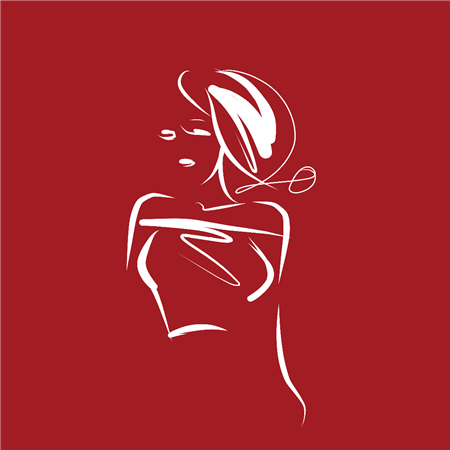 Posture & Poise
Posture & Poise:
This is an important key to feeling and looking confident. Within 4 seconds your non-verbal first impression is formed, 55% of that impression is based on your BODY LANGUAGE, your poise, and your posture. Plus wrong posture is the source of that back pain, tense legs and crammed toes (yup, that's what's pressing on them)
Styles of Walk:
This is where you really start to personalize your walk. Create a killer, confident look. You have more options than a straight line!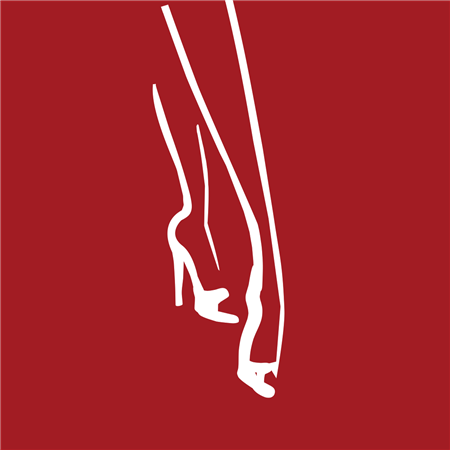 Styles of Walk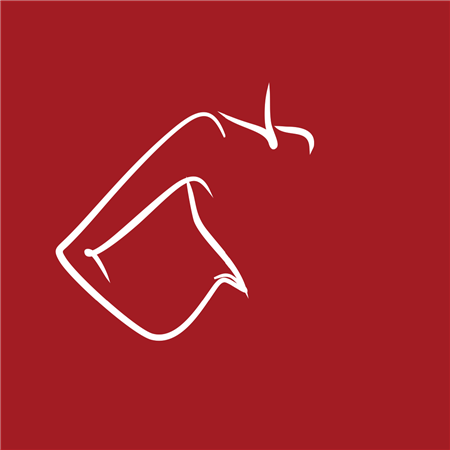 Arm Styling
Arm Styling:
Arms are the cherry on top. Their purpose is not only to improve coordination and carry your purse with swagger, but also to highlight your movements, and bring the whole look together.
These 5 Elements are vital for a confident, stylish, and pain free walk!
Each of these elements break down into 2 parts: Mechanics and Style.
MECHANICS are foundational skills like coordination, balance, how to straighten your leg, how to move your hips, etc.
STYLES are different ways you can move your body to create a different aesthetic look and impression.
Think Mechanics are your tools, and Styles are the beauty and art!
Bonus!
Access to our Private Facebook Community
Share your journey, wins and heel stories in a safe, supportive space of women who want to show up powerfully – just like you.
This gives you an understanding exactly where YOUR problem might be (whether it's in 1 particular area or in all of the areas), as well as a filter to sort through the random tips and advice you may have heard when it comes to wearing heels.
For example, if someone told you "WALK IN A STRAIGHT LINE", this would fall under "Styles of Walk". It will help you to create a certain look, but it WON'T help you feel better (balance, coordination etc.).
If you try to push through it WITHOUT having the right mechanics, you will undoubtedly struggle. (A quick tip for beginners: unless you naturally walk in straight line, it's much better to begin with 2 tracks. It looks just as elegant, and you'll have much better balance).
Or when someone tells you "BRING YOUR HIPS FORWARD AND LOOSEN THEM UP", this falls under our hip element, and includes both mechanics and style.
Unfortunately, both of these tips are WRONG. When you bring your hips forward, it collapses your lower back, and it puts pressure into you joints. This is why a lot of women say that heels hurt their back! Instead, you want to have your hips gently lifted and slightly back.
And when it comes to loosening up the hips, if you don't know how to move them and just try to swing your hips around – it creates a loose, bouncy look. Like a bobble head.
These tips may sound catchy, but neither of them should be the first thing you learn. Each element is a building block that stack upon each other. When you try to implement a random tip, it puts you at a disadvantage right from the start.
These aren't requirements for Professional dancers.
This is what for the last 20 years, I've been teaching my clients: students, working professionals, mom's, business owners etc. These Women just wanted to know the Essential Skills to be able to walk in heels with comfort and confidence, wherever they went!
This is how you get rid of pain, discomfort and get confident and comfortable wearing a pair of heels, like the other 29% of women.
If you would like to get off the Pain Train while wearing heels and become one of the 29%
You can learn how to walk in heels confidently, comfortably and with style without pushing through pain, doing anything to the shoe or trying to implement the classic 5 same blog tips, through proven techniques, strategies, and secrets in the How to Walk in Heels: Master Course.
This 5-part (10 videos) online Master Course is your key to get unshakable balance, effortless coordination, an elegant strut, graceful body poise, learn the 3'Fs of sexy hip movement, and develop your own Signature Style to stand out anywhere you go in any pair of heels.
You will learn both the Mechanics and Style for: Legs & Feet, Hips, Poise & Posture, Styles of Walk, Arm Styling.
Through my proven strategies, techniques and expert tips that you won't find in any tutorial or blog (we searched), you will learn exactly what to do so next time you wear heels you can walk into any room like you own it, confidently, gracefully and make heads turn after you!
Plus, to help you get maximum results, I'm giving you my Signature Training Guide as a bonus.
It includes strategies for the most efficient practice plans that I use when coaching my own private clients. It will allow you to maximize your effort, reinforce your skills, and get you the results you want much quicker. It's as if you have me there planning your practices out for you!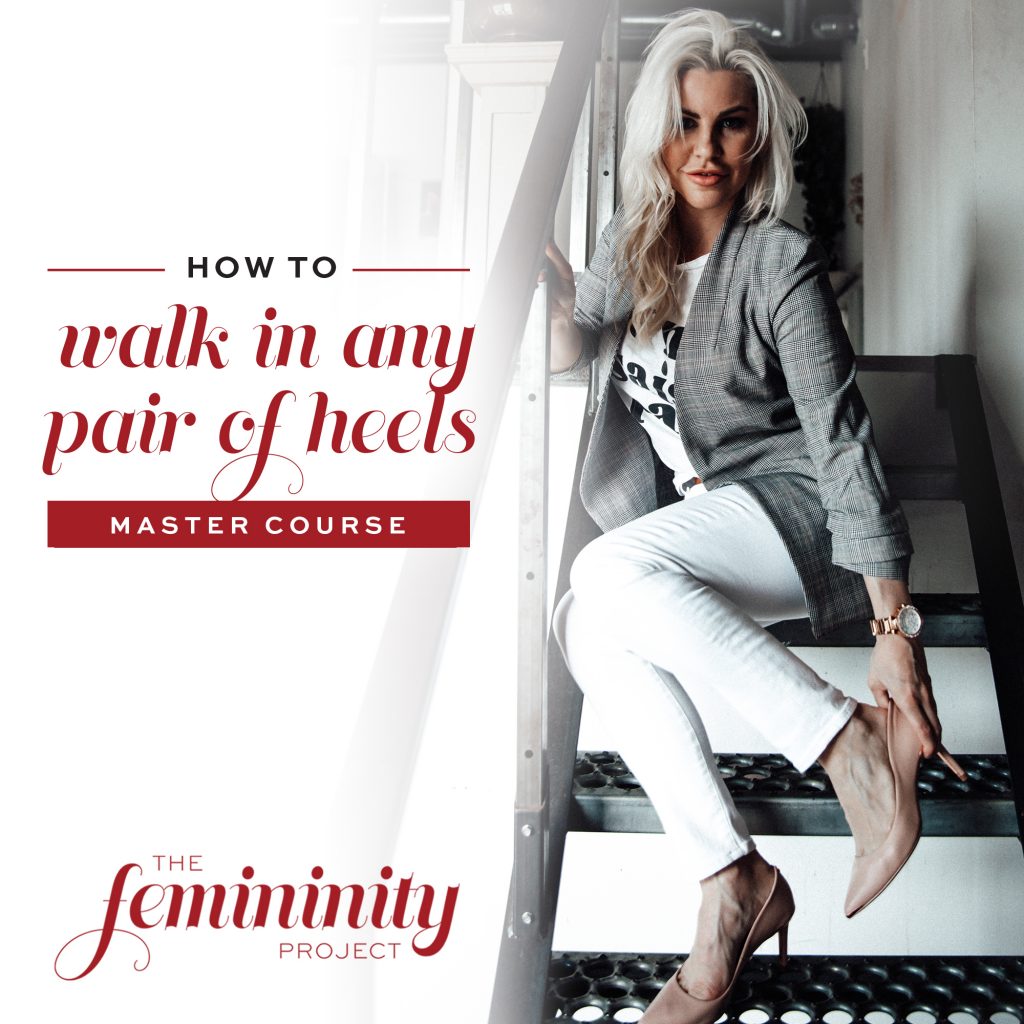 If it seems complex, trust me – it isn't.
This course goes step-by-step and is extremely EASY to follow. I've carefully crafted it to include ONLY the essentials skills that are relevant for your everyday life (no fluff!).
If you want to wear heels and have never learned the correct way to walk in them, this course is a must. Too many women are pushing through the pain which affects how they feel and how they look, but it's not a long term solution (it's not even a short term solution!). Learning how to walk properly now will be one of the best investments you can make for how you present yourself, and how you treat your body.
Whether it's going to an event, a party, a date, or work, these are the essential skills you need to look fabulous.
I've never met a woman who wasn't busy!
With that in mind, I wanted to create this course so that ANY busy woman could still find time for herself and reap the benefits of the course. I did this in 2 ways:
I designed the lessons to offer maximum value in a short burst of time. Just 20 minutes a week, will create big shifts!
You have lifetime access. Go at your own pace and timeline. Take a pause and resume any time you like, there is no expiration date.
The only thing I recommend for women,
is during the first month of going through the course, if possible, is to either not wear heels outside at all or at least limit it when you can. So you won't have your OLD HABITS kicking in. it will just make it easier for your body to implement everything you learn, giving you more time to practice before you go out.
The women who wanted to learn the material of the course through private coaching with me, on average spend
$1,200

.

I wanted to make it accessible to EVERY woman. Packaging it in the course at a price of a hair appointment, a nice pair of heels or a new dress.

You get 10 lessons and $1,200 worth of material packed in a $197 course.

With payment plans available, you can spread it over 2 or 3 months.

This 1-time investment will transform how you feel and look in every pair of shoes and clothes you own, for the rest of your life.
You'll have unshakeable balance, effortless coordination, an elegant strut, confident posture, and feminine body movement everywhere you go.
Wouldn't that be nice?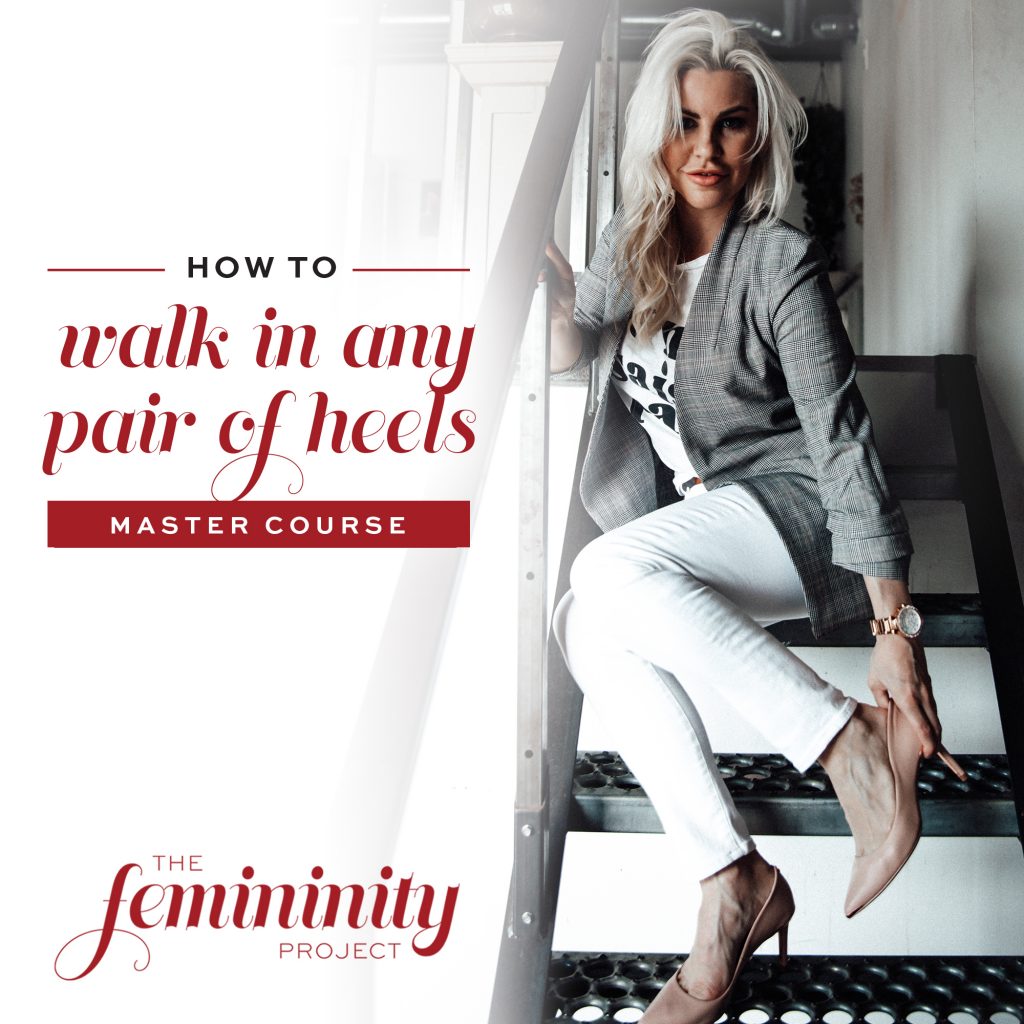 $197
Once you get this course, the next time you get to wear heels whether it's going to an event, or a party, or a date, or work, you will choose the pair you WANT to wear without worrying about pain, discomfort and your ability to walk in them (looking for a nearby chair to rest),
because you will know all the tools and skills to get in the "29% Club", be able to walk into any room like you own it and make every head turn after you!
Got questions?
I've got answers
Q: I don't actually wear heels right now, but I want to have abetter walk. Should I still take this course?
Yes! Even if you're committed to wearing flats, this program focuses on *so* many strategies to help you carry yourself and walk the walk with more poise and confidence that will still be relevant for you.
Q: What age do I need to be to take this course?
Believe it or not, heels don't discriminate by age! I've led women from all ages and walks of life through this program — from university students to grandmothers. As long as you have a willingness to try it, your age doesn't matter!
Q: I'm worried about past foot injuries and the structure of my foot… Will I be able to still use this course?
Absolutely. The first three modules are focused solely on your body alignment — this ensures we can get you in the right position to help you move strategically to support your joints and take the pressure off your foot when wearing heels.
Q: How much time will this program take me to see results?
This program is designed for you to go at your own pace! Each training plan sets you up to work within a timeline that feels best for you. My intention is to help you get to a place where wearing heels feels totally natural, and that comes with dedicating time to practicing the exercises with each lesson.
Q: What if I'm not satisfied with the program?
This program has a zero-refunds policy because I believe in this course, and have seen *so* many women thrive as a result of implementing this knowledge! I believe in this program 100% and know that if you are committed when joining this program, you will be satisfied with the value and results.
Q: What's the investment?
This program is $197.
Q: I still have some questions. How do I get in touch with you?
No worries! I'd be happy to answer them. Reach out at info@thefemininityprojectinc.com and I'll get back to you as soon as I can.
"I really enjoyed this course. It's clear that Sarah is an accomplished dancer and teacher. I found the lessons to be well-paced and the instructions to be very clear. Sarah created an environment that is supportive, relaxed and fun! I have always struggled to walk in heels, but after Sarah's class, I feel much more confident and a bit more graceful in my heels! I would recommend the course to anyone."
– CHRISTA D.